| | | |
| --- | --- | --- |
| The average Southern Wesleyan University graduate finishes with $19,257 in loan debt. This compares to the national average of $29,400 as of 2013. Source: Institute for College Access & Success | | The current average financial aid package at Southern Wesleyan University without utilizing loans is $15,150. This reduces the tuition "sticker price" from $23,020 to $7,870. Additional assistance is available with the use of student loans that have favorable interest rates. |
| According to Pew Research, the median annual earnings among full-time workers ages 25 to 32 in 2012 was $15,500 higher for those with a bachelor's degree or more compared to those with a 2-year degree or some college. | | The 2014-2015 Council for Christian Colleges and Universities listed Southern Wesleyan University at 86 out of 117 among member institutions when it comes tuition rates (1 being highest tuition rate and 117 being lowest). |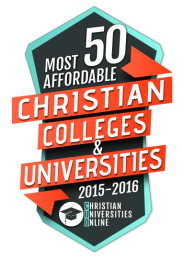 It's true — college may be one of the biggest expenses you encounter over the next few years. But it can be one of the best investments you'll ever make — and we'll help you every way we can. Take advantage of a variety of institutional scholarships and grants, as well as grants and loans through federal and state assistance. Each student is given personal consideration to fit the financial aid package to the student's need through both institutional and government aid programs.
Cost is important, but the real question is, What is the value of the education I will receive? Cost is very different from value. Some low cost institutions provide low value education. Of course, some high cost institutions may also provide low value education. At Southern Wesleyan, we want you to be as successful as possible. So, as you consider college options, look for high value, then let the financial aid team help you work through cost.
For some interesting data on the value of a college education, read this article by Pew Research, The Rising Cost of Not Going to College.
We hope you find this information to be helpful and relevant to your enrollment at SWU. Contact us at 877-644-5556 or by email should you need additional help in the aid process.
FAFSA Code: 003422
Financial Aid Office
907 Wesleyan Drive
Central, SC 29630
864-644-5000
Toll Free: 877-644-5556
Fax: 864-644-5970